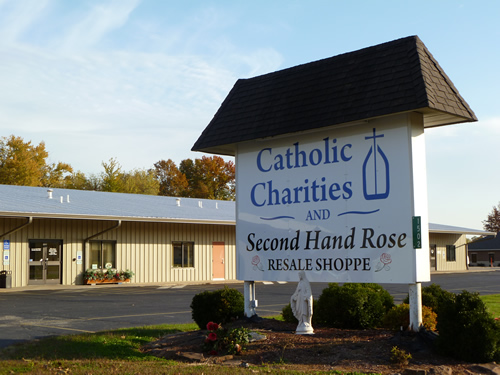 Serves Clark, Crawford, Cumberland, Effingham, Fayette, Jasper and Shelby counties
Area Director: Sr. Carol Beckermann srcarol_cceff@cc.dio.org
1502 E Fayette Ave
Teutopolis, IL 62467
(217) 857-1458
Fax: (217) 857-1481
Food Pantry/Mobile Food Pantry: (217) 857-1458
MedAssist: Sr. Kathleen Bushur: srkathleen_cceff@cc.dio.org, (217) 857-1458, ext. 108

Second Hand Rose Retail Shoppe/Ramblin' Rose: (217) 857-1482
PROGRAMS
Crisis Assistance helps with assistance for rent, utilities, prescription medication assistance, transient transportation, temporary lodging, and adult dental vouchers. Open Monday through Friday from 8:30 - 11:30 a.m. and from 12:30 to 4:30 p.m.
Dental Voucher The Dental Voucher Program, in collaboration with HSHS St. Anthony Memorial Hospital, helps people in Effingham and Jasper Counties obtain access to dental services from participating dentist that include exam, x-ray, and if necessary, an extraction.
Food Pantry offers food to families in need. The pantry is open Monday, Wednesday, and Friday from 9:00 a.m. to 11:30 a.m. and 12:30 p.m. to 4:00 p.m.

Legal Services assists people with little or no income to obtain pro bono legal services. Appointment necessary.

MedAssist helps people access free or nominally priced medications, as well as help choosing a Medicare D plan and accessing other cost-saving programs. Available Monday through Friday 8:30 a.m. to 11:30 a.m. and 12:30 p.m. to 3:30 p.m. Appointments are encouraged. Service Area for diabetic medication assistance is Clay, Cumberland, Effingham, Fayette, Jasper, and Shelby counties.

Mobile Food Pantry travels to an area in which people have limited access to food. If you are interested in hosting a Mobile Food Pantry, please call (217) 857-1458.

Ramblin' Rose bus runs to outlying communities between July and mid-August, providing school supplies and clothing to children K-12.

Second Hand Rose Resale Shoppe is a public store that offers good quality, low-cost clothing and household items. Clothing vouchers available. Store hours are Monday through Friday, 10:00 a.m. to 4:00 p.m. and Saturday from 9:00 a.m. to 1:00 p.m.
Referral Service informs families of local resources specific to their needs. Available Monday through Friday from 8:30 - 11:30 a.m. and from 12:30 to 3:30 p.m.

Advisory Board Members
Angela Beckman, Justin Deters, Cindy Hardiek, Mandy Henning, Brianna Heuerman, Tammy Lakin, Robert Lakin, Beth Lindvahl (President), Mark Niebrugge, Bailey Pals, Lisa Probst, Scott Repking, Dana Ruholl, Karen Smith (Vice-President), Megan Walk, Meghan Wendt, Shanta Will (Secretary), Steven Will (Treasurer), Mike Wilson, & Nicole Zeller