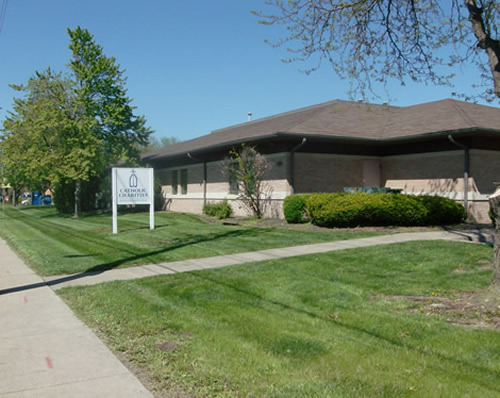 For service requests, please call the 11th Street Office at 523-4551
Serves Sangamon, Menard, Christian, Morgan, Scott and Cass counties
Area Director: Patrick McConnell mcconnell_spfld@cc.dio.org
120 S 11th St
Springfield, IL 62703
(217) 523-4551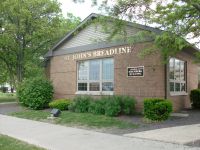 St. John's Breadline
430 N. 5th St.
Springfield, IL 62702
(217) 528-6098
Fax: (217) 528-6098
E-mail: breadlineassistant@cc.dio.org
Local Services
St. John's Breadline: The St. John's Breadline serves nearly 400 - 500 meals daily at no charge to low-income and homeless individuals in our community. The Breadline also provides 300,000 pounds of food annually through The Eisenberg Take What You Need Pantry. Meals are currently available Monday-Friday 8:00 a.m.-9:00 a.m. & 10:30 a.m. - 1:30 p.m., Saturdays, Sundays, and Holidays 10:30 a.m.-1:30 p.m.

Holy Family Food Pantry: Our staff serves the nutritional needs of families by helping with immediate problems and searching for future solutions. Donations of food, time, and money are necessary in order to respond to local hunger. Hours are Monday, Wednesday, and Friday from 9:00 a.m. - 12:00 noon. Our evening pantry is the 3rd Wednesday of every month from 2:30 p.m. - 5:00 p.m.

Mobile Food Pantry: Through this hunger relief effort, a refrigerated truck delivers a two-week supply of food to pre-registered individuals and families in rural communities. The MFP Program strives to deliver food to at least one rural community per month. Call for arrangements within service area.

Catholic Charities Legal Services: This community-based, quality legal services program helps people with little to no income obtain pro bono legal assistance in civil matters.

Intact Family Services: This program's goal is to keep troubled families together by offering them intense case management and education in parenting and linking them with related services in their communities. All clients must be referred through DCFS.

Crisis Assistance & Advocacy Office: We provide emergency financial assistance for rent and utilities, as well as providing basic necessities, including food, medicine, and clothing. As part of a close-knit network of community agencies, we refer people for help when we are unable to assist with a particular need. Hours are Monday - Friday from 8:30 a.m. - 4:30 p.m. or by appointment.
Advisory Board Members
Kathy Ascher, David Beach, Robert Bunn, Andrea Danner (President), Michael Goldasich, Marisa Joyce, Mindy Kolaz, Rosalie Lloyd, Terrence Lucas (Secretary), Doug Mauntel, Brian Stenke, Tom Walters (Vice President), Jeff Wente (Treasurer)