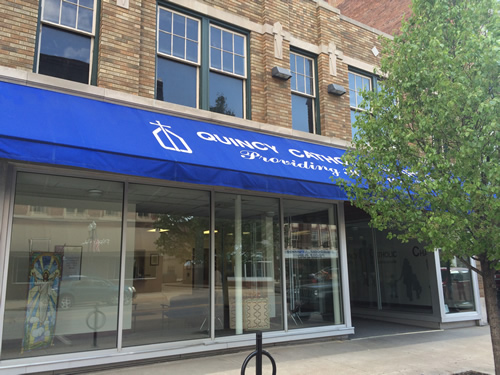 Serves Adams, Brown and Pike counties
Area Director: Kevin Williams_qcc@cc.dio.org
620 Maine St
Quincy, IL 62301
(217) 222-0958
Fax: (217) 222-8737
Intact Family Services Supervisor: Kelsey Anders
Child Welfare Specialist: Marie Sprinkle
Child Welfare Specialist: Susan Pierce
Child Welfare Specialist: Brittany Lamberson
Child Welfare Specialist: Autumn Blackford
Child Welfare Specialist: Maddie Rodeffer
Food Pantry Manager: Jacob Bangert
Therapist: Sr. Ellen Miller

Legal Services
(217) 523-9201 ext. 329, 317
Local Services
Professional Counseling Solutions provides individual, premarital, marital, and family therapy from a systemic perspective. Our services are focused on helping our clients cope with life's challenges in order to return to their optimum level of functioning prior to treatment. Services are based on a sliding fee scale, and clients are not refused because of their inability to pay. School Counseling is also available in the parochial school system.
Spiritual Mentoring is a time-honored term for a conversation in which one person consults another who is experienced in discerning the ways in which God may be touching their life. It is helping another person awaken to the Holy Mystery in all of life and to respond to that discovery in a growing relationship with their God. A spiritual Mentor/Companion walks with a person as a guide. The focus is to help a person deepen their relationship with God through prayer, scripture, reflection, art, music, and developing inner silence. The goal is to help the individual become aware of God's presence, invitations, and movements in their life.
Intact Family Services is a state-contracted service to mitigate further child abuse and neglect. The goal of the program is to keep the family unit intact while addressing issues that perpetuate abuse and neglect. Families in Adams, Brown, Cass, Hancock, Pike, and Schuyler Counties are accepted on a referral basis from the Department of Children and Family Services.
MedAssist Program has two main components. The traditional program assists individuals in leveraging long-term prescription medications by accessing pharmaceutical companies' assistance programs. Our trained Advocates network with the patient's physician and the pharmaceutical company to ensure the patient receives their medications. The target population of the MedAssist program is those who have no or limited prescription drug coverage. The 2nd component offers additional assistance to help with immediate medication costs/co-pays, depending on the situation. The goal of the program is to sustain or enhance the quality of life of our clients.
Food Pantry strives to provide supplemental food to individuals and families that present for assistance and who meet the Department of Human Services requirements. Quincy Catholic Charities is a member of the Central Illinois Food Bank and also participates in the Feeding America Program sponsored by Wal-Mart. The food pantry is open every Monday from 2 p.m. to 3:30 p.m. every Wednesday from 9 a.m. to 11:30 a.m. and every Friday from 2 p.m. to 3:30 p.m. Clients may receive food one time per month. Additional Mobile Food Pantry Services are coming soon for rural communities in Adams, Brown, Hancock, and Pike Counties.
Mobile Food Pantry: Through the hunger relief effort, our refrigerated Mobile Food Pantry truck delivers food to pre-registered individuals and families in rural communities throughout our service areas.
Legal Services: Our Legal Services help people with little to no income in obtaining pro bono legal assistance from area lawyers in specialized fields while also providing guidance to our clients in order to get the assistance they need right now.
Advisory Board Members
Jake Bertram, Jenny Eling, Beth Hayes, Brian Hendrian, Mary Ohnemus, Karla Paris, Rev. Zach Samples, Susan Schmitz, Joanna Shipe, Sarah Steinkamp, Kate Venvertloh (Secretary), Sarah Venvertloh, Erin Vonderhaar, & Cindy Wellman